Overview
Enter the current and previous shareholders. shareholders are the owners of a company. Members provide capital to a company, usually through the purchase of shares.
This screen also breaks each shareholding by share class, so CAS360 users are easily able to see the differences between share classes.
Navigation
| | |
| --- | --- |
| From the Main Toolbar, go to Company. | |
| Select the Company from the list. | |
| Select Shareholders | |
Shareholder live check
Every time users access the Shareholders screen, CAS 360 checks the Company Shareholders against the Companies Office database.

If there are any mismatches, CAS 360 will display the message below:



To investigate the mismatches, click

CAS 360 will display a comparison report for the mismatches.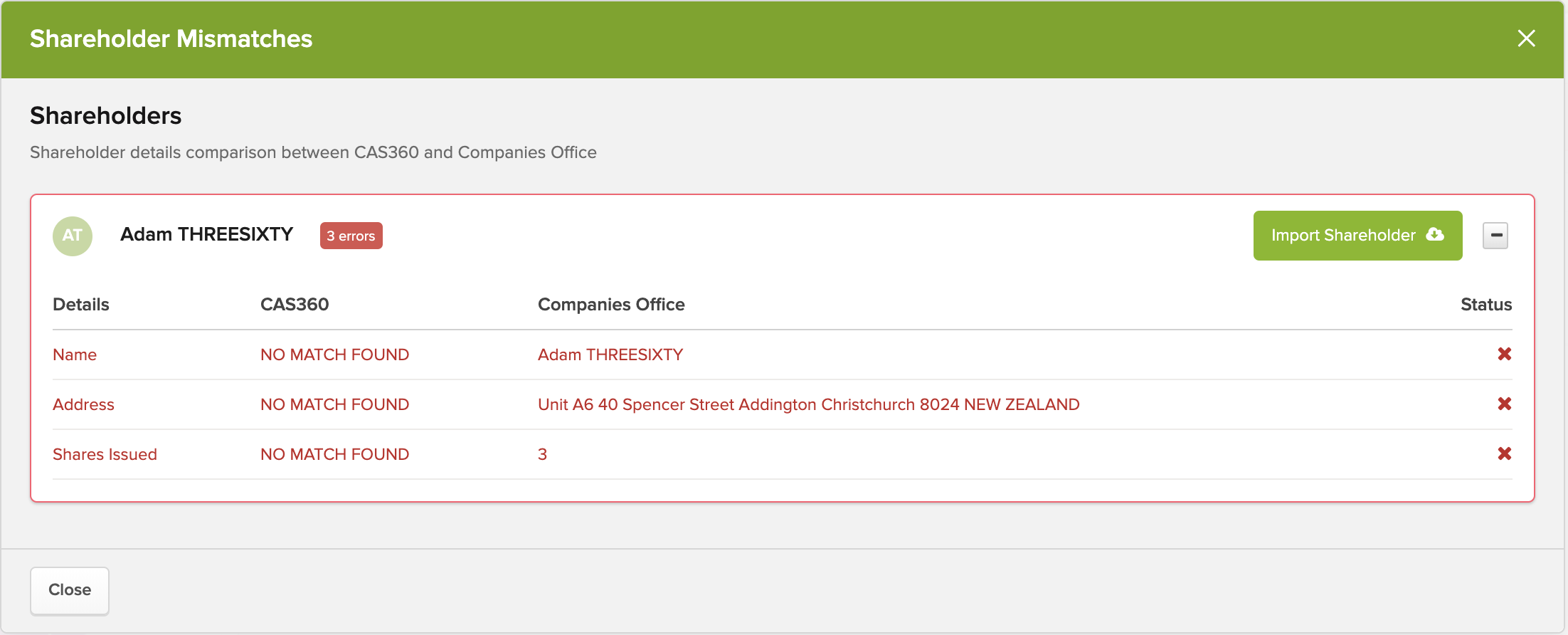 If the shareholder does not exist in CAS 360, Click

CAS 360 will proceed to download the shareholder information and record the shareholding into the shareholders screen.
Shareholder Filters
The Shareholder Filters section contains Doughnut Graphs that reflect the number of shares held between different shareholders and a comparison of the different share types issued by the company.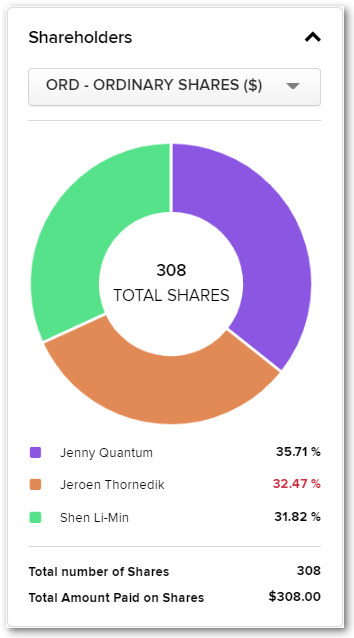 Hovering over the Shareholders graph will show users the number of shares the shareholder hold of that share type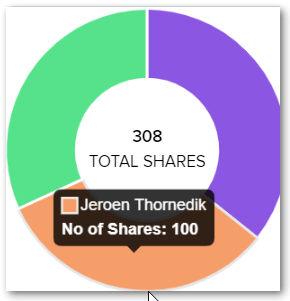 Shareholder Details
Under the Name column, hover your cursor over the information icon

. Users will be able to instantly see the shareholder:

Name

Address

Date of Birth

Place of Birth

Mobile Number

Company Number
NZBN
To edit any of these details, select

Beneficial Owners
icon will appear beside shareholders where the shares are Not Beneficially held (the shares are held on behalf of another entity).
Hover the mouse over the icon to display the name of the Beneficial Owner as well as their Address, Email, Mobile, TFN and Place of Birth
Certificate Number
CAS 360 will display the Share Certificate number in the Shareholders screen
To change the certificate number, beside the shareholder, click
and select Edit
Details
To add a Shareholder, click
Use the Search box to look up for a specific shareholder.
The search can be used to search for any data in the Shareholders screen including:
date
transaction-type
number of shares
certificate number
beneficial owner
Users can also sort the shareholder screen by each column heading

Click
to view the following:
| Option | Description |
| --- | --- |
| Print Current Register | This will produce a PDF of the register with only current shareholders. |
| Print Historical Register | This will produce a PDF of the register with current and previous shareholders. |
CAS 360 is able to produce forms for a number of Shareholder changes such as:
Allotments
Subscriptions
Shareholders' Balances
Non-share Member (Coming Soon)
Share Transfers
Cancellations
Redemptions
Change of Beneficial Ownership
Changes to Amounts Paid
Subdivisions
Consolidation
Conversions
Return of Capital
Share Buy Backs
To enter Dividends, click
See Dividend Statements for more information.
Additional Options
Select the

button (far right-hand side of the screen) to: