Health Check Alert
CAS 360 will automatically check your companies information each morning. This check will help ensure the information you have for your companies matches up with the company information on the Companies Office Register.
| | |
| --- | --- |
| From the Main Toolbar, go to Company. | |
| Locate the company | |
| From company selection screen select the Health Check Alert | |
Companies with mismatches between the Companies Office Register CAS 360 will activate the health check alert in the company selection screen.
Use the Health Check Alert filter under Alert Filters to instantly display only the companies which have health check issues.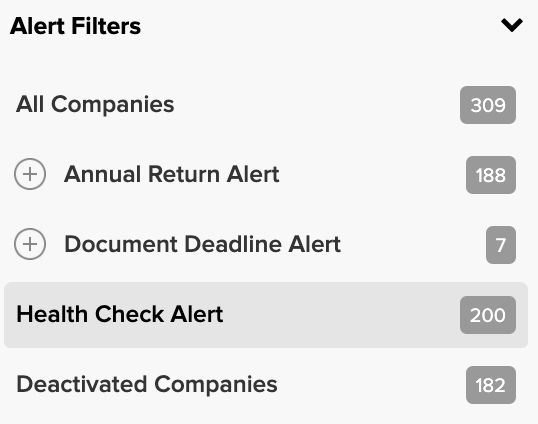 By hovering over the alert, CAS 360 will give users a breakdown of how many mismatches there are and where the mismatches have occurred.

CAS 360 users have the ability to quickly jump to the appropriate screen to correct any issues.

See also: