What would you like help with?
To access CAS 360 Help and documentation, from the upper menu, select:

CAS 360 offers the following help sites.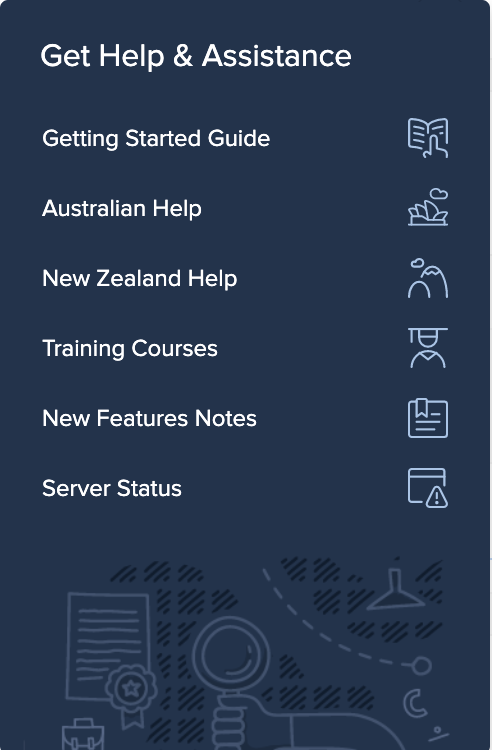 Getting Started Guide
Get to know more about your CAS 360 with our getting started articles. They cover the features that we know you'll grow to love and help you get a deeper understanding of the screens throughout your CAS 360 software.
Australian Help
Navigate directly to our dedicated Australian Help page for our Australian users covering all things CAS 360 and ASIC.
New Zealand Help
Navigate directly to our dedicated New Zealand Help page for our New Zealand users covering all things CAS 360 and Companies Office.
Training Courses
Upskill by signing up for any BGL related training courses run by our knowledgable, certified and friendly BGL trainers.
New Features Notes
Keep up to date with all the new and wonderful things the team at BGL releases into CAS 360.
Server Status
Stay on top of how your CAS 360 is functioning. The server status page will let you know when there are any functions in CAS 360 that are scheduled for maintenance.
Help us improve!
If there is anything you would like to see in the program, add your comments to our feedback.
From the upper menu, select:

Simply type your feedback and hit send. You can even paste text in!
Feedback goes directly to our CAS 360 team who are eager to hear what you think.

Join the free online community which will allow you to interact with other CAS 360 users. Members can post, comment, and give opinions on current discussions.
Log a Support Call
1. To log a support call, select the Log a support call button at the top of the CAS 360 page.

2. When the Support Call window opens, enter in a brief description or question that your query relates to and select Search.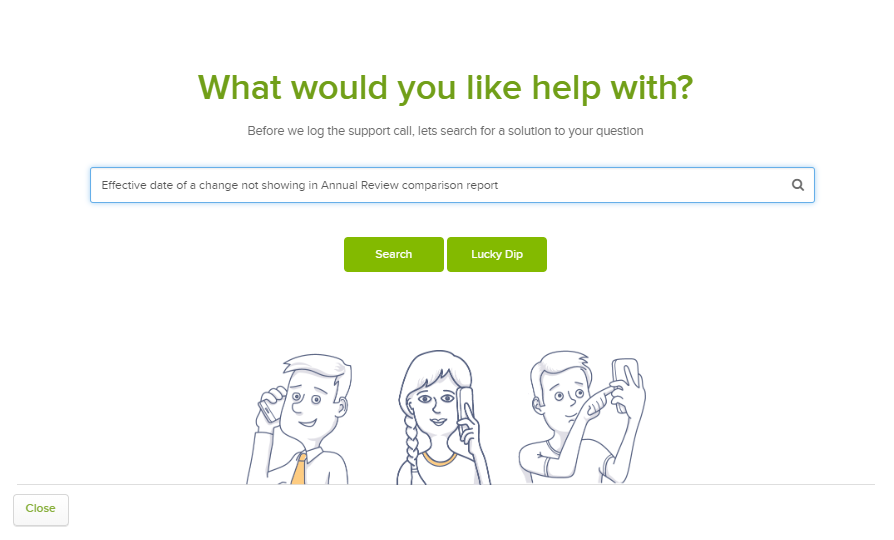 3. CAS 360 will then search the Knowledge Centre and BGL Community, providing the most relevant search results.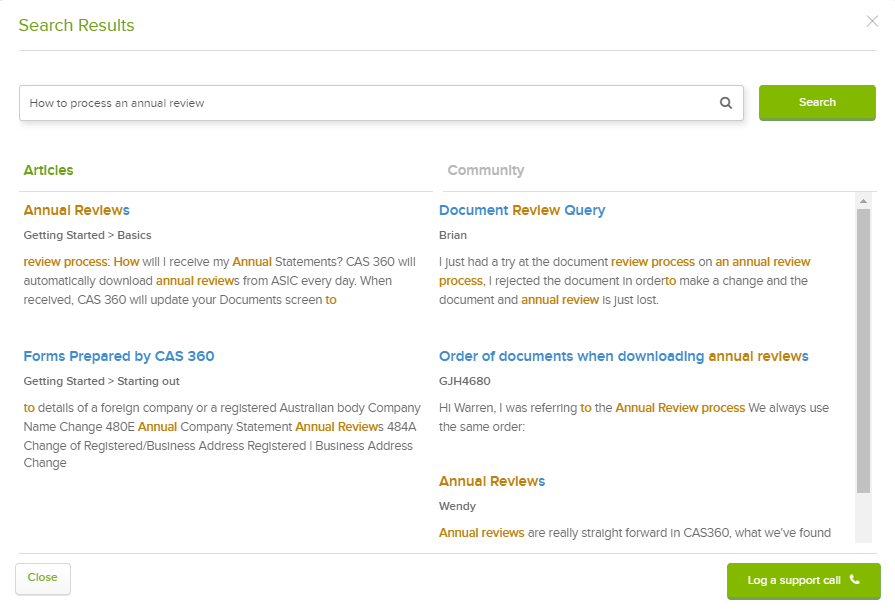 4. If the suggested Articles or Community search results don't return a relevant result, select the Log a support call button.

5. Complete the following Support Call requirements:
Field

Explanation

User Name

CAS 360 will automatically select the current user

The name will be pre-filled from the user's Profile Management screen

Correspondence Method

From the drop down list, select one of two options:

Phone (be contacted by phone)
Email (be contacted by email)

Email Address

CAS 360 will automatically populate the email address field based on the user's email address who is currently signed into CAS 360.

This email address will be used to provide updates on the status of your query with BGL Support.

Phone Number

If a phone call is selected as the correspondence method, input your preferred contact number.

If an email is selected as the correspondence method, the phone number field is optional.

Problem Statement

From the drop down list, select the topic that best fits your support query.

Agent Forms
Alerts
Annual Reviews
Can't Login
Company Incorporation
Company Selection
Comparison Report
Deregistration
Digital Signing
Documents
Internal Error
Invite User
Member Changes
Other
Practice Management (Integrations)
Registers
Reports
Reprint Documents
Settings
Urgent
Wishlist
Feedback

If none of the above options relates to your query, please select Other.

How can we help you?
Provide a description of the issue you face to assist the agent in providing the best possible solution to your query.
Attachments

Upload up to five files to assist with explaining your support query.

For example, you can attach a screenshot of an Internal Server Error that you are experiencing or a failed comparison report that you would like assistance with correcting.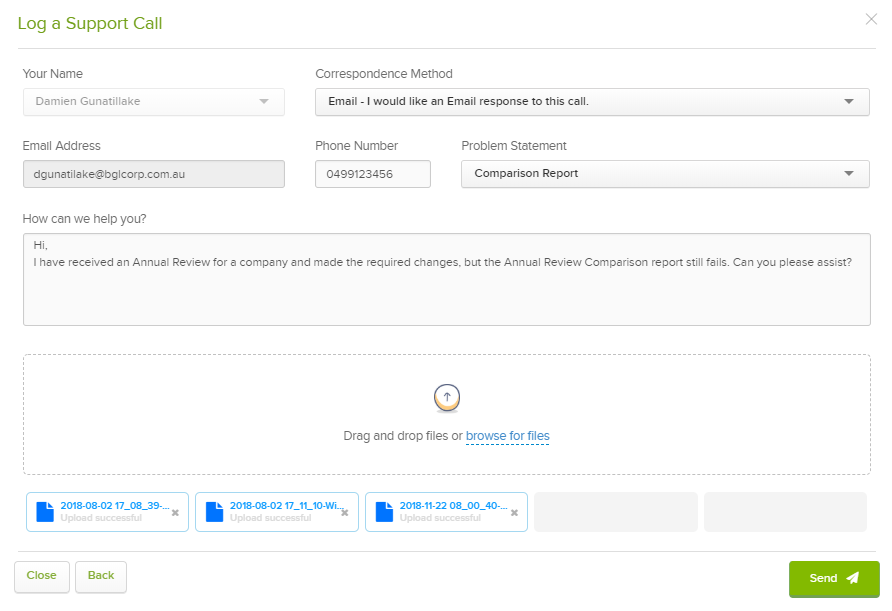 Once you have completed the above fields, select Send. An agent will be in contact with you shortly.

6. CAS 360 will then confirm that your Support Call has been submitted.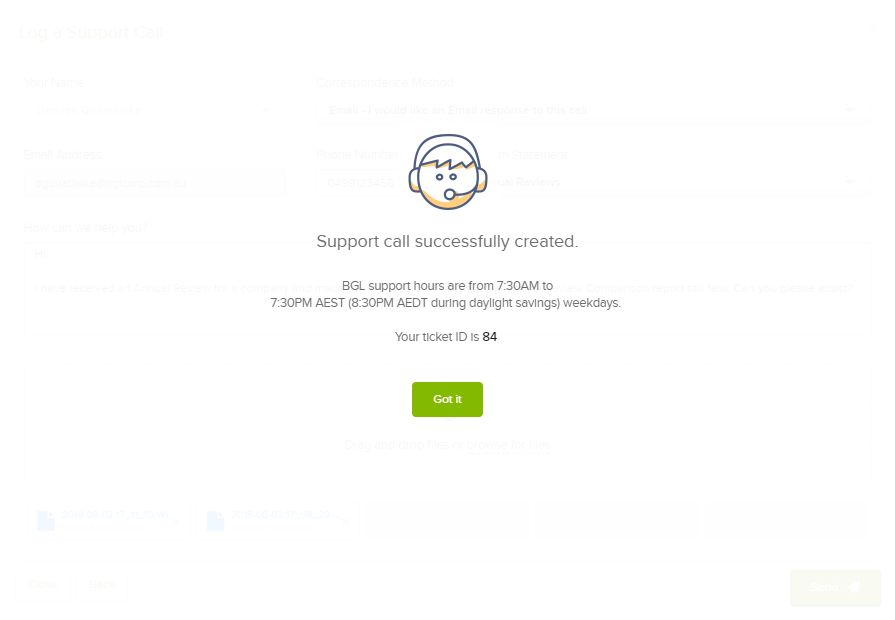 You will also receive an automated email confirming that your support ticket has been submitted to the BGL Support Team, please check your email.
If you would like to add further information to your support call, simply reply to the email and add your response.
If you have resolved your query, reply to the email to notify the BGL Support Team to close the support ticket.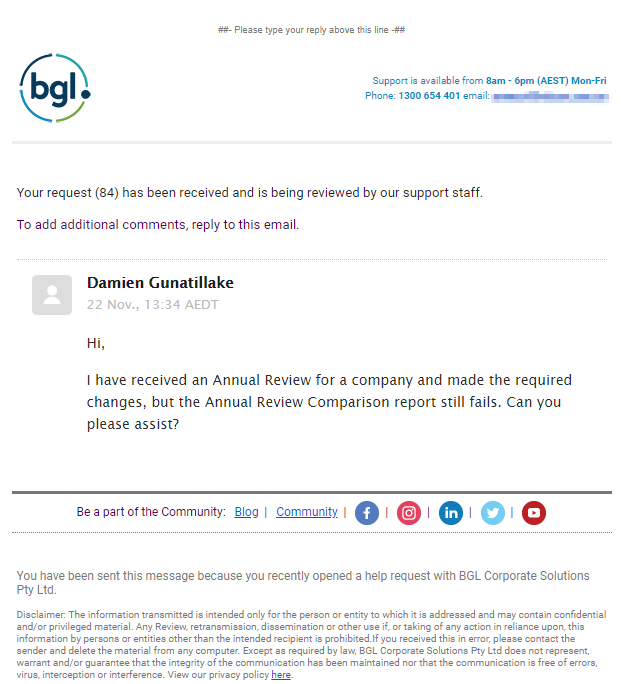 Access the BGL website and the API

Select the app icon in the top right hand corner of the screen to access the following:
BGL Account: Your User Profile screen
API integration: BGL have developed an API which will enable your application, system or website to interact seamlessly with CAS 360.
User Profile Screen
The User Profile Screen allows you to manage your user profile.
This screen also allows users with admin rights to manage user roles and users for all 360 products from one central location.
To access the User Profile Screen, select the Profile icon in the top right hand corner of the screen:

The User Profile Screen allows you to review your profile details and make any changes if required.
To edit any detail, hover your mouse over the detail.
The pen icon will appear

When the pen icon appears, click into the detail to edit.
Click on the tick icon to confirm the change or the cross icon to cancel any changes made.

You have the option to sync your profile details for all 360 applications. Click Sync next to Profile.